The first version of the Farm set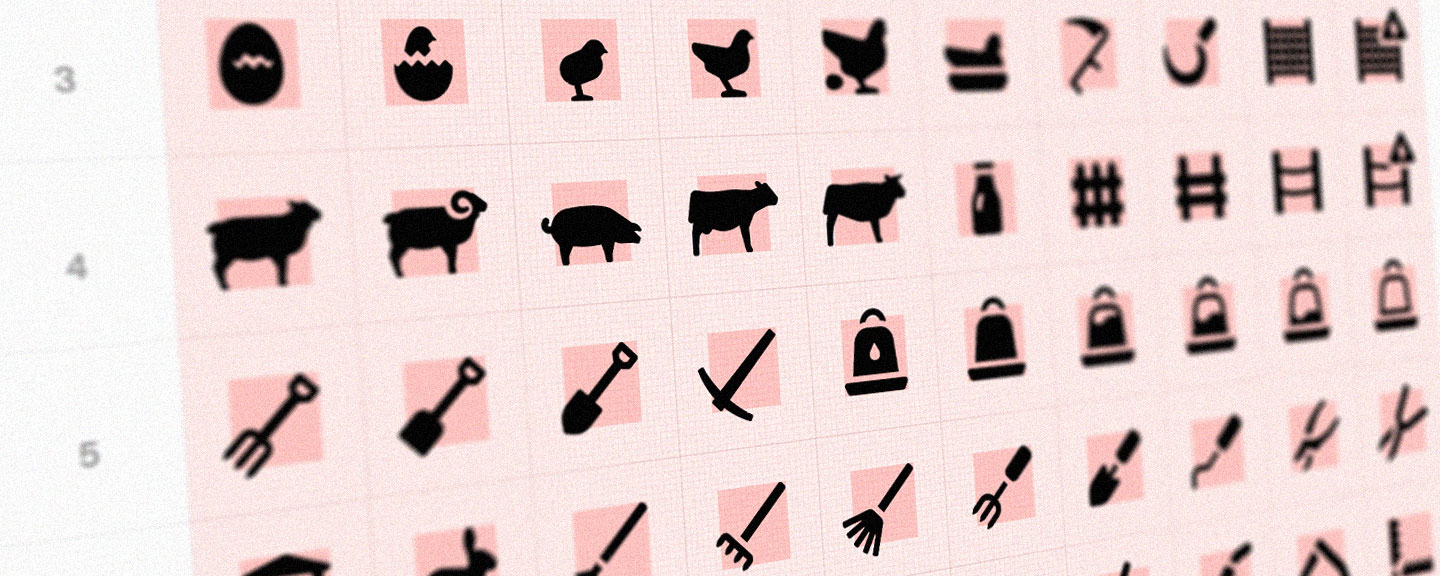 As you probably already know, when I'm creating any new icon set, I'm always trying to draw from what I know or have at least some little personal experience. Although it may seem a bit unlikely with the Farm set, it's actually no different this time. You may think: Wait – what? You're graphic designer, not a farmer, right?
It's not that I'd be a farmer per se, but I've just been living outside the city for some time now and in addition to a relatively large garden, we also have some animals, including several hens, which we raised from chickens. All I'm trying to say is that while I'm no expert in this field, I have at least an idea of what is what on a farm, even on such a tiny farm like ours :)
Anyway, that's also the main reason why there is so much poultry-related icons in a first version of the Farm set. It's simply something I have the most experience with right now and because I needed these icons to label and distinguish chicken feed containers from others.
Some of these icons, especially all animals icons, contain a bit more details than usual – it was necessary to keep it simple as always, but also to show all main differences between different sexes of animals or their characteristics during various periods of life – it's the most obvious with all chicken life cycle icons.
The Farm set is available now for $15 and it's also a part of the current Comprehensive collection as well.
If you alredy bought Comprehensive collection, normally you'd have access only to sets (and of course their updates) you originally bought, but I've decided to give this one-time the Farm set for free to all current Comprehensive collection owners. If you like the new set and want to support me anyway, you can of course buy it as a standalone set or share a word about GLYPHICONS among your friends, any form of supprot would be greatly appreciated, thank you!
My personal view of home farming
Growing your food and the ability to be even partially self-sufficient seems to be trend at these days. People are finally starting to care more about their gut health and overall diet and trying to grow their own food not only outdoors in their gardens, but also on balconies or even completely indoors.
I believe that especially locally grown organic food is important – veggies, fruits and meat as well. Of course it's not possible for everyone (especially meat), but why not try it out, at least on a small scale? All you need for is a small pot and window. I guarantee, that anything you grow by yourself will easily beats most of the vegetables or meat you can buy at the store and it will be packed with taste and nutrients.
Also it's a fun and you'll learn a lot during the process. Do you have kids? Let them work with you, it's almost priceless for them to see how food grows and not just how to unpack it from its artificial plastic packaging.
How about you?
Are you planning to grow your own food? If yes, start small and enjoy your portion of healthy organic edibles, your body will thank you for that.
If you think that I should create any other new icon in one of the future updates of this set, please do write me at: glyphicons@gmail.com – I promise I'll get back to you.
That's it for the new Farm set, I hope it will help you not only in your design work, but maybe even inspire you to try to grow something yourself ;)
---
Jan Kovařík