Introducing GLYPHICONS 2.0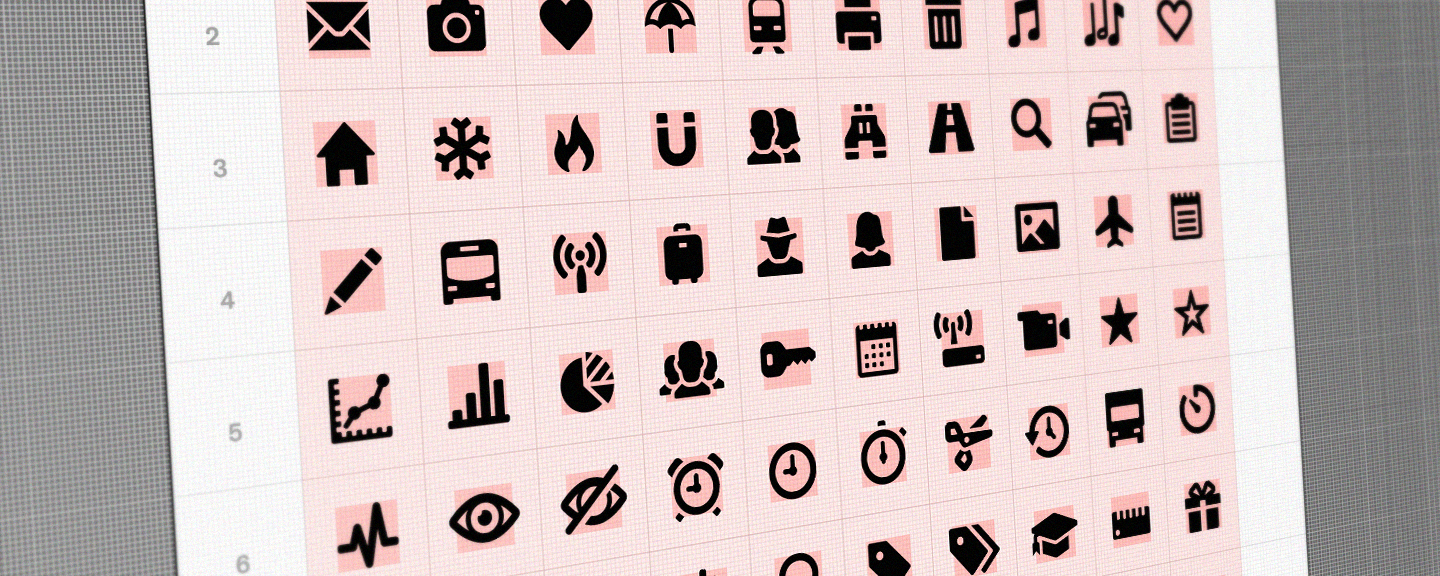 I've finally caught up with everything around, even though I'm still catching my breath. Due to many circumstances, this version took much more time than I expected, but every cloud has a silver lining and thanks to this, I had a time to rethink and most importantly to recreate all GLYPHICONS from scratch and set a new direction for the whole project.
This is really the biggest change to the icons that has been made since the initial version and I think that this time, it deserves more than a usual short notification email. So let me pause here for a bit and explain some of the changes that come with this update and why it got number 2.0.
(If you're in hurry, you can skip the timeline and and read what's new right away.)
A bit of history
Before we get to know what's new in the version 2.0, I searched my mind (and changelog files ;) and tried to briefly summarize and comment the sequence of all major events that shaped GLYPHICONS into its present form.
1.0 released 11/11/2010


GLYPHICONS icons were born with 170 icons in one set, for 49 USD. If you're curious, you may read more about why they exist in newly updated page: "Motivation behind icons".

1.1 released 12/21/2010


* 50 new icons were created
* 36 icons changed or redesigned
* 1 icon removed
(220 icons in total)

1.2 released 2/13/2011


* 50 new icons were created
* 21 icons changed or redesigned
(270 icons in total)

1.3 released 5/11/2011


* 50 new icons were created
* 15 icons changed or redesigned
* 10 icons removed
(310 icons in total, still only in one set)

1.4 released 8/7/2011


* new Halflings set was created - 100 tiny 12px icons
* 22 new icons in the Basic set were created
* 22 icons changed or redesigned in the Basic set
* 2 icons removed
(330 icons in Basic set and 100 in Halflings set)

1.5 released 12/20/2011


* 20 new icons in Halflings set
* 50 new icons in Basic set
* 39 icons changed or redesigned
* 30 icons removed
(350 icons in Basic set and 120 in Halflings set)

1.6 released 4/11/2012


* 20 new icons in Halflings set
* 50 new icons in Basic set
* 14 icons changed or redesigned
(400 icons in Basic set and 140 in Halflings set)

1.7 released 11/1/2012


* font and HTML/CSS example files were added for both sets along with
* vector version of Halflings added
* 20 new icons in Halflings set
* 27 new icons in Basic set
* 7 icons redesigned
* 7 icons removed
* the change of the price from 49 to 59 USD
(420 icons in Basic set and 160 in Halflings set)

1.8 released 7/24/2013


* new website, including integrated search among all icons
* 50 Social set, a new set of icons
* 130 Filetypes set, a new set of icons
* simplified and improved HTML/CSS code for all icons
* all icons also as individual and paged PDF files
(470 icons in Basic set, 200 in Halflings set, 130 in Filetypes set and 50 in Social set)

1.9 released 11/24/2014


* 140 new icons in Basic set
* 60 new icons in Halflings set
* 10 new icons in Social set
* 20 icons changed or redesigned
* all icons also in @3x size
* all icons also as individual SVG files
(610 icons in Basic set, 260 in Halflings set, 130 in Filetypes set and 60 in Social set)

1.9.2 released 12/15/2015


* 190 new icons in Basic set
* 40 new icons in Halflings set
* 10 new icons in Filetypes set
* 13 new icons in Social set
* 58 icons changed or redesigned
* 7 icons removed
(800 icons in Basic set, 300 in Halflings set, 140 in Filetypes set and 70 in Social set)

2.0 released 10/23/2018


* GLYPHICONS Basic set contains 900 icons, all created from scratch
* GLYPHICONS Halflings set contains 240 icons, all created from scratch
* GLYPHICONS Filetypes set contains 80 icons, all created from scratch
* GLYPHICONS Social set was replaced with a new Social tool
* Brand new website - including better search and info page for each icon set
* Brand new Handbook - with a new content, which reflects a new file structure
(900 icons in Basic set, 240 in Halflings set, 80 in Filetypes set)

What was discontinued
* HTML/CSS files - including Bootstrap files and icon font for the web
* FREE, ALL and PRO versions - each set is now offered separately (here's more info for owners of the PRO version)
This timeline nicely illustrates, how this project gradually grew in time and show the fact, that GLYPHICONS were never about quantity (and they never will be), but rather about quality in the first place. That's not just a phrase, that's why icons weren't only created, but from time to time some were also removed and many of them changed or completely redesigned.
PRO, ALL and FREE bundles discontinued
Until the last update, there were always three bundles (versions) of GLYPHICONS icons:
GLYPHICONS PRO (multiple sets, vector source files, fonts, web files and raster images and free updates)
GLYPHICONS ALL (multiple sets, but it contained only raster images for iOS)
GLYPHICONS FREE (it contained only small raster images and limited free license)
There were multiple licenses, as PRO and ALL versions had the same commercial license and FREE version was released under the Creative Commons Attribution 3.0 Unported (CC BY 3.0).
A few years ago, when creators of Twitter Bootstrap contacted me about licensing, I decided to give them Halflings set rather for free, because on the one hand I liked the original project and hadn't time to negotiate any custom license on the other. So to make things a little more complicated, this older version of Halflings set was released under the same license as Bootstrap. The result was that licenses became a bit mess and many customers were unsure if it was ok to use them in their projects.
At that time, I probably should to hire somebody to create a more robust license, but right when I was about to do so, somebody shamelessly copied almost all Halflings icons and started to offer them as his own product. So instead of a new license, I took money I had and started to register GLYPHICONS and related graphics as a trademark to protect my work. This process took years and I'm still not sure it was worth it, I guess only time will show.
Anyway, the result is, that my license text remained almost unchanged till today, which in the end wasn't a bad thing, because today I can confirm, that almost all my customers don't have any problems with this license and on the contrary, they appreciate its brevity, straightforwardness and clarity.
So in version 2.0, there are no bundles (versions) of sets as each icon set is now a standalone product, has its own page, own update history, own price and one simple license.
Note for previous PRO owners: here I want to reassure everyone who bought PRO version in the past, that I'll keep updating their sets and versions as I did in all previous versions, without having to pay anything extra. I hope that maybe if you like the new icons, you'll buy one of new sets I create in the future. If you didn't get your update, please use this link and recover your account. If you can't recover your license, please send me your original order ID at: glyphicons@gmail.com and I'll help you manually.
Individual icon sets
It turned out that the main purpose of some sets remained for a part of my customers unclear even after years of using them. The main source of misunderstandings was the Halflings set, as some perceived these icons as set small in a sense of smaller total amount of icons and not as icons intended primarily for smaller applications. Here would be easy to blame customers for misconception of their purpose, but it was mainly my fault, because I didn't sufficiently explain the difference between the Basic set and Halflings set and expected that everybody would somehow feel it.
With the Filetypes set, I had to rethink the whole logic behind the icons themselves. If I'd continue with what I set at the beginning, I'd ended up with a large number of icons, that's for sure, but I'd have to create an icon for each file extension that exists. I'm not sure why I didn't get the idea to make rather a placeholder icon for each group of files sooner (exactly as it works in any operating system), but now they are more useful even when there are less of them there.
I also made a number of mistakes when creating the Social set and that's why this set is now replaced with a new Social tool. This new page should educate and help others to work with these logos more correctly, without having spent too much time on searching for original brand assets and resources.
Web HTML/CSS files
It seemed like a good idea to add example HTML/CSS files to each icon set, so I hired a friend and we created a simple HTML/CSS file for each set, which should help people to get the idea how it's possible to use them and show them how as an example.
But things began to complicate in a moment, when customers started using these files as a framework, instead of as an example. Again, I can't blame them; I should somehow prevent this and explain better the purpose of these files. It really turned out to be a bit irresponsible and short-sighted from me.
The first problem appeared as the total number of icons in one font file exceeded a certain amount (especially in Basic set as there were 800 icons) and the file size of web fonts started to be ridiculously large, which obviously got worse with each update. You can add to that other problems such as: web icon font rendering issues in various browsers and in certain operating systems and I don't even mention accessibility problems, when fonts didn't load properly or at all.
Overall, even though web icon fonts have some advantages, such as fewer HTTP requests and speed when using a large amount of icons on one site, now it looks like we have a better way how to include icons on websites - also in vectors, but more semantic, accessible and user-friendly; yes, it's SVG.
I'm not a programmer and my knowledge of HTML/CSS faded away during last years, as my focus shifted almost wholly to the graphic design, so if you're eager for some arguments, I am going to refer you to the article that made me rethink web icon fonts in my projects: Inline SVG vs Icon Fonts by Chris Coyier.
New Handbook
I can't forget to mention a brand new Handbook, recreated especially for this version. Inside you find all the essential information about GLYPHICONS and everything related to these icons. It's the brief inventory of the most important things anyone should know before using the icons.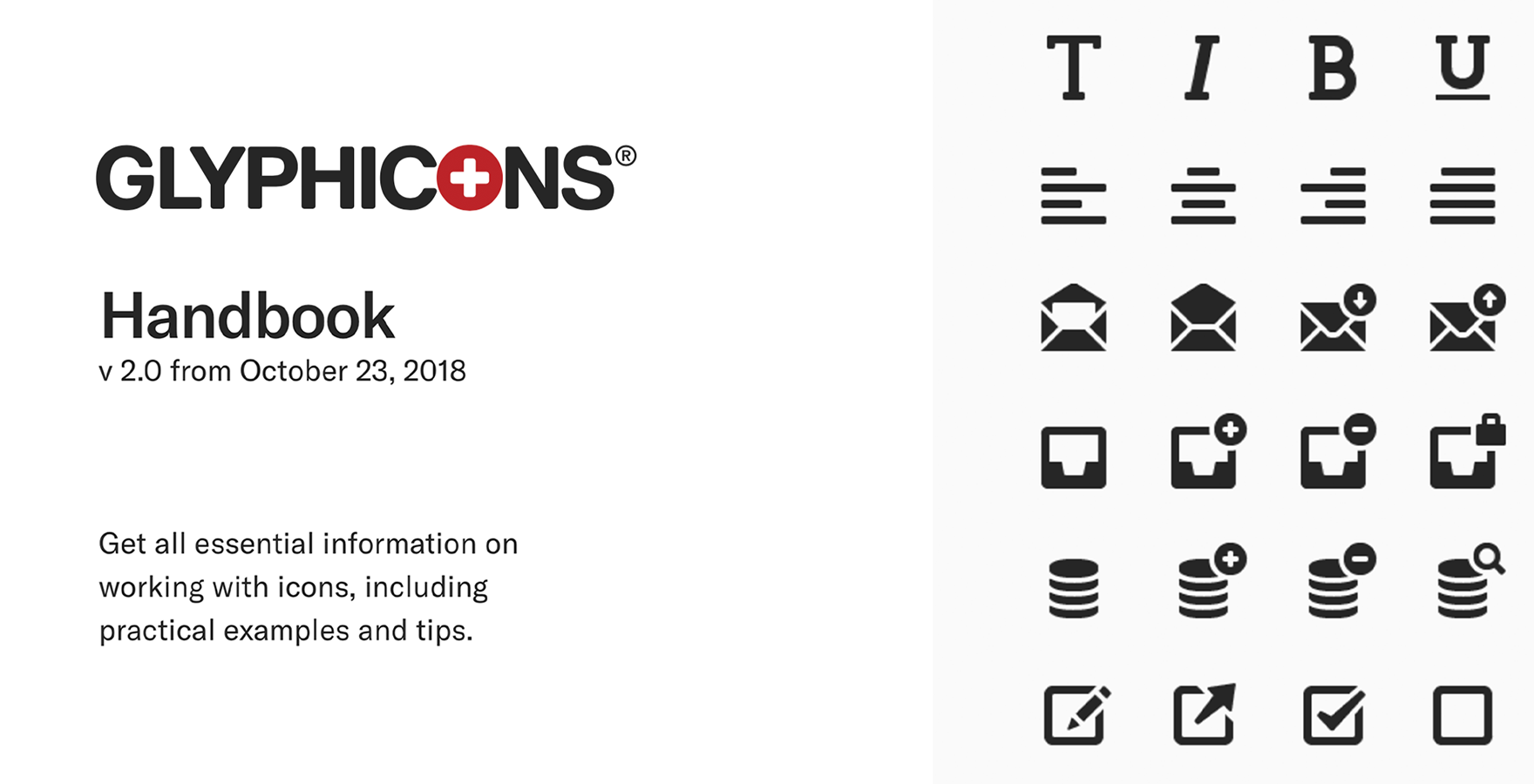 Of course, it is not a compulsory reading, but give it a chance and you'll be suprised how it can be useful. From this version, I'll try to update its content more frequently than before. It's now available to everyone for free.
New price for the sets
Last but not least, with this new version, I had to set some price for each new set. As you may see in the timeline above, these icons were never made to make money, as the first version was sold as 170 icons for $49 and today it's a $89 for 900 icons, which is less than $0.09 per icon (!),1, with a lifetime commercial license. And I don't even mention the fact that the quality of icons in version 2.0 is absolutely incomparable with the initial version. Yes, these icons has come a long way and evolved alongside my skills and knowledge improved.
Don't get me wrong, this project is definitely helping me to pay my monthly bills, but when you deduct all the expenses and time needed for each version, research, new icons, updates, it's not exactly a gold mine. I always wanted to keep all these icons as affordable as possible to a wide range of users, that's why I did almost no price changes during the whole time. As before, I'll try to reward early adopters of any set with free updates.
What next
As I am getting slowly back to my daily routine, I'll have more time to maintain, improve and create new icons. Also this new structure of icon sets allows me to take care of them individually and more often than before and adding new sets will not be as complicated as before.
If you want to support me, I'll be really grateful if you buy any of the sets - first new one, which you can buy right now, is a bit emotional - the new Smileys set :)
As always, if you miss any icon in your current icon set(s), have an idea for a whole new icon set or have anything else to say, all kinds of feedback are greatly appreciated and you can contact me as always at: glyphicons@gmail.com
Thank you and enjoy the new icons!
---
This was a price for previous version of Basic set by the time it was launched version 2.0. If you're curious about current numbers, please visit Basic set detail page.
---
Jan Kovařík