New icon sets collections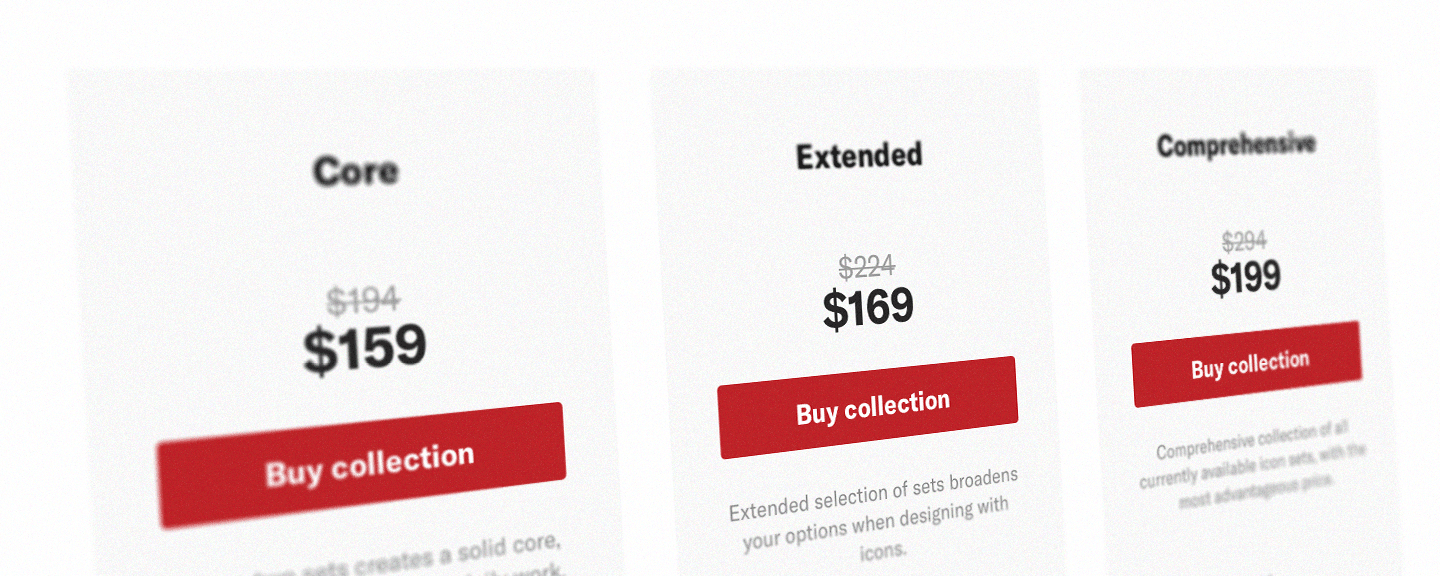 I've never been good at marketing. My first thought was always: a quality product must suffice on its own to be successful. You could say that I was against doing any marketing in a traditional sense at all. Luckily, a good friend of mine has extensive experience in this field and offered me help. It turned out I was wrong. Marketing isn't bad in general, I only used to see its very rough and sometimes even manipulative methods. But it can be actually useful to both parts, sellers, and customers as well, and truly helps to resolve various problems.
Long story short, I had a few "skeletons in the closet", unsolved issues related to the functioning of the website and customer behavior, that I wasn't able to figure myself. So we did some basic analysis and ended up with a number of various changes, that you can see on the website today.
The most evident one is probably the option to buy icon sets in collections. This new "feature", or rather buying method, is so important, that I think it deserves some detailed explanation in its own article.
So why collections?
There were many issues I needed to deal with, but two of the most burning issues were bothering me the most in the last few years and these two led me to the idea to offer icon sets collections eventually.
A large portion of new customers were deciding between Basic set and Halflings set as their starting point, instead of using both together.

This is completely on my head, as I obviously didn't explained enough the purpose of the Halflings set.

I created Halflings icons as a complementary set to the Basic set, not as a standalone set. Of course, it works on its own or with other sets as well, but the potential of both sets (Basic and Halflings) is most fulfilled when they are used together and to complement each other.
My second mistake was, that I didn't offer a better price or direct option to buy these sets together, so it's no wonder that so many customers were choosing one or the other.

Collections solve it.

These two sets are now included in every collection, so it's more obvious that they are making a strong core of the entire GLYPHICONS library, on which you can continue to build upon.
Now you can buy both at the same time, for a notably better price. It should encourage new customers to do not choose between these two sets, as they are really meant to work together, not compete one with the other.

I was always against the nonsense seasonal discounts or time-limited sales for digital products and I didn't change my opinion on this matter, but at the same time, I completely ignored people who wanted to buy more sets at once.

To be more precise: I ignored the fact, that it's only fair to offer a better price to those customers, who are willing to buy more sets at once.

Again, it was completely my fault, as I was lazy to create these bundles and everything related to them.

Collections straighten it out.

Now I can offer an advantageous price in exchange for the loyalty and trust of those, who are buying several sets in one collection at once.
What's important to know about collections
Collections are simply pre-selected bundles of currently available icon sets and there is no difference between sets bought in collections and sets bought individually, except the price.
You get the very same regular license as you'd get if you bought any individual set.
If you buy any collection, each set inside can be downloaded separately, directly from your account page.
Once any set in the collection you bought has updated files available, you get its update for free and notification about it right in your inbox – again, it's exactly the same as it works for individual sets.


Another thing that should be obvious, but just to be clear: you're buying sets that are currently offered in a collection and you cannot claim any yet unreleased sets or other products I might create later, but of course you'll get free updates for each set that was in the collection at the time of purchase.
This leads to another remark: it's possible that the content of the collections, or rather the selection of sets inside, might change during the time, but this doesn't affect your order. Your collection will always include all sets that were a part of the collection at the time you place your order.
Likewise, for now, it's not possible to create your own collection, the advantageous price is really for these pre-selected combinations of sets only.
Last but not least, it is not possible to upgrade or change purchased selection one for another, same as it is for individual sets.
That should be all for collections. I hope you like them and that I didn't forget to mention any important facts. I'll update this post continuously according to the questions you might send me.
So I'm closing this post with a traditional phrase: if you have any questions, don't hesitate to contact me ;)
---
Jan Kovařík